Esta es una rocambolesca historia de la música country que se remonta al comienzo de la década de los 50 y que hoy continúa dando que hablar. Desde finales de
1950 a
finales de 1951, todas las mañanas a partir de las 7 y cuarto hasta las siete y media, la legendaria emisora de radio
WSM
de Nashville emitía un show musical country patrocinado por la marca de harina
Mother´s Best Flour
. El show era presentado por Louis Buick y su estrella principal era
Hank Williams
, figura fundamental en la música country que en tan sólo 6 años de carrera musical revolucionó esta música y la llevó del hillbilly a la modernidad. Precisamente en 1951,
Hank Williams
estaba en la cima de su carrera y con los
Drifting Cowboys
asombraba a toda América.
Mother´s Best Flour se fundó en 1919. Ese año, Frank Little y Alva Kinney adquirieron Nebraska Consolidated Mills en Grand Island, donde radicaron hasta 1922 cuando se mudaron a Omaha. En 1936 se retiró Kinney. En 1940, la empresa comenzó a producir harina, y en 1942 se aventuró en el negocio de la alimentación del ganado.
A Hank Williams le pagaban por esos 5 shows de Mother´s Best Flour, 100 dólares por semana. Frecuentemente Hank no se encontraba en Nashville por lo que los shows se grababan y se pinchaban a la hora convenida. Esa es la razón por la que los shows fueran registrados en acetato de 16 pulgadas y llegasen hasta nuestros días.

Los acetatos eran discos de metal cubierto con acetona, con los surcos grabados sobre esta. Y se hubieran perdido para siempre si un empleado de la WSM no los hubiera rescatado de la basura. Muchos programas de televisión en sus inicios sufrieron un destino similar. En esos días de la televisión era en vivo y las grabaciones eran primitivas, algunos programas de televisión se han conservado en cinescopio, un sistema frágil, y por lo general se descartaron. Por ejemplo, de las apariciones de televisión de Hank Williams, sólo se conservan nueve minutos y películas caseras sin sonido y eso que era una gran estrella. Una auténtica pena.
Los shows de Mother´s Best Flour solían constar de una canción country, una instrumental y una gospel y suman un total de 72, con 143 canciones en total. Lo más curioso es que no se tenía constancia de que Hank hubiera cantado 40 de ellas. De ahí la sorpresa que han causado en el mundo musicológico country que algunos comparan el impacto de este hallazgo a las grabaciones del Million Dollar Quartet, sólo que estas se conocían desde siempre.

Esta singular cantidad de grabaciones da para mucho, sobre todo para hacernos una idea bastante amplia de la genialidad de Hank Williams al que frecuentemente se le ha pintado como un hombre atormentado, solitario y adicto al alcohol y a los tranquilizantes y su música asociada a la tristeza, al desengaño y a una lucha interior finalmente perdida. Y nada más lejos de la realidad. Mother´s Best Flour presenta al hombre real, al de las contradicciones y al brillante, alegre, simpático y bromista, el que abre al oyente todo un universo musical que muestra el ayer y el hoy, la fe, la soledad, la familia, las relaciones humanas, el engaño, el amor… mensajes que han perdurado en el tiempo.

Frente al repertorio netamente country contemporáneo compuesto por Hank nos encontramos al Hank de las raíces, al hillbilly, al piadoso gospel, al artista que sabía de donde venía y hacia donde caminaba. Es sencillo trazar la ruta de Hank Williams escuchando los temas de los Mother´s Best Flour en su conjunto. Habrá muchos que se sorprenderán y no es para menos. Pero la sorpresa será siempre agradable porque estas grabaciones nos ofrecen una visión más completa, integral y duradera del artista más que la visión parcial que teníamos de él hasta ahora.





Y lo mejor de todo es que son Hank Williams y los Drifting Cowboys en estado original, sin las recargadas re-producciones cargadas de cuerdas de años posteriores a su muerte. A veces los Drifting Cowboys no habían ensayado los temas en conjunto pero aún así todos siguen a Hank Williams con maestría. Mi única pega es el excesivo protagonismo de Audrey Williams, la mujer de Hank (y madre de Hank Jr.) mediocre artista que no da la talla ni aporta el contrapunto al rotundo protagonista del show: Hank Williams.
Finalmente, acuciado por problemas de salud, bebida, sentimentales… Hank Williams renuncia al patrocinio, es despedido del Grand Ole Opry (Reinstate Hank!), se separa de Audrey, sus dolencias se agravan y finalmente muere en extrañas circunstancias en su Cadillac. Y el tiempo echó un manto de olvido sobre los shows Mother´s Best.
Howard Watts, "Cousin" Louie Buck, Sam Pruitt, Hank, Jerry Rivers & Don Helms
Las grabaciones comenzaron a pulular por Nashville cuando el empleado de la WSM se las cedió en explotación a Williams Hillous Butrum el bajista de Hank Williams. A su vez Legacy Entertainment Group, LLC., compró las grabaciones de Williams e intentó liberarlas pero ni Butrum ni Legacy tenían derecho sobre las mismas y Polygram Records por un lado y por otro los hijos de Hank, Hank Jr. y Jett (que también tuvo que batallar legalmente para que la reconocieran, ya que era ilegítima) presentaron una demanda a finales de los 90, porque entendían que el acetato era de su propiedad como su discográfica, unos, y como herederos legales, los otros. Vamos, un lío de proporciones considerables.
La primera sentencia favorable llegó en 2003. Legacy perdió el juicio y finalmente el Tribunal de Apelaciones de Tennessee, reafirmó la sentencia del tribunal anterior, por la que afirmaba que Jett Williams y Hank Williams Jr, rechazando las alegaciones de las otras partes, incluyendo Polygram. Era de justicia.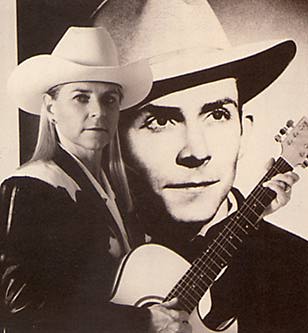 Jett, al comentar la sentencia largo tiempo esperada, dijo "Estoy encantada de que al final este tesoro de material previamente inédito se pueda poner a disposición de los fans de mi padre. Una nueva generación podrá ser introducida a un nuevo catálogo de la música de Hank… un catálogo que será controlado por primera vez por sus hijos en vez de por una discográfica".

Hank Jr añadió: "ha sido una batalla larga… pero importante y finalmente exitosa, y no puedo pensar en una mejor ocasión para editar `nuevo' material de mi padre que ahora, cincuenta y tres años después de su muerte. Hoy debe estar sonriendo".

Keith Adkinson, el marido y abogado de Jett Williams, declaró "es altamente significativo que el tribunal haya sentenciado que Polygram no tiene ningún derecho de propiedad bajo los términos de su viejo contrato con Hank Williams, más allá de las grabaciones que hizo para Phonograph Records. Lo hemos defendido todo el tiempo, y ahora que la Sala ha estado de acuerdo con esta línea, tiene grandes implicaciones para aquellos viejos artistas que firmaron contratos similares con otras discográficas hace décadas. Todos estos años les han hecho creer que sus discográficas eran las propietarias de muchas más cosas que las puras grabaciones hechas bajo el amparo del contrato original".

La pega viene del sistema de ediciones que como si de un jamón en lonchas se tratase, nos van a llegar racionadas y cuya edición durará tres años en total. Nos es de recibo hacer ediciones así ya que el grueso de los fans de Hank son coleccionistas que piden otro tipo de edición más sitemática como las de la Bear Family. Además, y lo más importante, se pierde esa visión de conjunto tan importante para conocer al auténtico Hank y su road band, los Drifting Cowboys. La gran ventaja: el delicado trabajo de restauración llevado a cabo por los ingenieros ganadores de un Grammy, Alan Stoker y Joe Palmaccio que han devuelto su esplendor a estas grabaciones que parecen salidas de un estudio discográfico. En esto si que hay unanimidad general.
HANK Williams, The Unreleased Recordings. La caja. (28-09-08)

Esta primera entrega de los shows Mother´s Best Flour publicada por Time Life contenía 54 canciones editadas en tres cd´s. Más de 20 temas son gospel y del total de 54, 28 temas, nada menos, son la única versión de la que se tiene constancia que se conserve.

Sólo por este detalle la colección sería única pero es que, además, tenemos versiones excepcionales como "I Can't Help It (If I'm Still in Love With You)", "Pictures From Life's Other Side", "On Top of Old Smoky", "Blue Eyes Crying In The Rain", "Cool Water", "Cold, Cold Heart", "I´ll Have A New Life", "Wedding Bells", "May You Never Be Alone", "I'm So Lonesome I Could Cry", "Hey, Good Lookin'", "The Blind Child's Prayer", "When The Fire Comes Down", "Low And Lonely", "Just When I Needed You", "The Pale Horse And His Rider" o "When The Fire Comes Down" por destacar algunas. Todas las críticas destacan la voz de Hank y el sentimiento que imprime enla interpretación de estas canciones.

Destacar, además, el papel prominente de dos músicos de estas grabaciones, el fiddler Jerry Rivers y el steel guitar Don Helms -fallecido hace poco más de un año-. Esperemos que también haya una edición especial de los instrumentales de los Mother´s Best Flour, porque lo merecen.

La edición se acompaña de un libreto de 40 páginas bastante informativo escrito por Colin Escott.

01. Blues Eyes Crying In The Rain
02. Dust On The Bible
03. I'm So Lonesome I Could Cry
04. I Heard My Savior Calling Me
05. Precious Lord, Take My Hand
06. Hey, Good Lookin'
07. On Top Of Old Smoky
08. I Can't Tell My Heart That
09. I Dreamed That The Great Judgement Morning
10. Next Sunday Darling Is My Birthday
11. At The First Fall Of Snow
12. Dear John
13. The Blind Child's Prayer
14. I'll Have A New Life
15. On The Banks Of The Pontchartrain
16. Low And Lonely
17. Drifting Too Far From The Shore
18. I'm Gonna Sing
19. I Can't Help It
20. Seaman's Blues
21. The Prodigal Son
22. Cherokee Boogie
23. Where He Leads Me
24. From Jerusalem To Jericho
25. Cool Water
26. I've Got My One-Way Ticket To The Sky
27. Searching For A Soldier's Grave
28. California Zephyr
29. Softly And Tenderly
30. Just When I Needed You
31. Gathering Flowers For The Master's Bouquet
32. Why Should We Try Anymore
33. The Old Country Church
34. May You Never Be Alone
35. When The Fire Comes Down
36. Lonely Tombs
37. Pictures From Life's Other Side
38. I'll Fly Away
39. Cold, Cold Heart
40. Have I Told You Lately That I Love You
41. When God Dips His Love In My Heart
42. Thy Burdens Are Greater Than Mine
43. When The Saints Go Marchin' In
44. I'll Sail My Ship Alone
45. Wedding Bells
46. Mind Your Own Business
47. You Blotted My Happy Schooldays
48. Where The Soul Never Dies
49. Pins And Needles [In My Heart]
50. Tennessee Border
51. There's Nothing As Sweet As My Baby
52. Wait For The Light To Shine
53. If I Didn't Love You
54. The Pale Horse And His Rider
HANK Williams, The Unreleased Recordings. Gospel Keepsakes. (07-04-09)
Ya en los años 50 había presiones comerciales para los artistas y Hank Williams no era una excepción. Sin embargo en las sesiones Mother´s Best Hank Williams da rienda suelta a sus sentimientos religiosos que desarrolló desde su niñez como también lo hiciera
Johnny Cash
a lo largo de toda su carrera. Versiones inspiradas de música religiosa que van desde jubileos old time, himnos formales, canciones gospel populares y músicas de cuartetos sureños, en general música religiosa sureña. Hank Williams era un ferviente creyente cristiano y eso se refleja en toda su trayectoria musical y mucho más en esta serie de transcripciones radiofónicas.
El primer recuerdo de Hank fue encontrarse sentado en la Mount Olive West Baptist Church junto a su madre Lillie tocando el órgano a la edad de 5 o 6 años. De hecho esta le envió a estudiar gospel a la Oak Grove Methodist Church de Avant en Alabama. Hank también conocía la música gospel negra. Se cuenta una anécdota sobre Hank en la que escuchando los cánticos que venían de la iglesia de color en su casa de Georgiana dijo: Un día voy a escribir canciones como esas". Y en definitiva es lo que hizo, componer canciones sencillas, con palabras y sentimientos claros y sinceros.
De las 4 primeras canciones que Hank grabó, 3 eran gospel, siempre incluía al menos una canción gospel en sus shows y llegó a componer más de 30 canciones del género entre ellas la famosa "I Saw The Light", escrita en 1947, que incluye esta sigular colección.
Lo ha sorprendido a todos es constatar el gran número de canciones gospel que incluyen estas grabaciones que, en definitiva, refuerzan la faceta religiosa de Hank Williams y que en conjunto son la mayor colección de canciones de este género en la carrera del genial artista de Alabama.
01. I'm Gonna Sing
02. I Heard My Savior Calling Me
03. Precious Lord Take My Hand
04. I've Got My One Way Ticket To The Sky
05. Thirty Pieces Of Silver
06. When God Dips His Love In My Heart
07. Farther Along
08. From Jerusalem To Jericho
09. When The Fire Comes Down
10. Drifting Too Far From The Shore
11. The Old Country Church
12. Lonely Tombs
13. Where The Soul Never Dies
14. Where He Leads Me
15. I Saw The Light

HANK Williams, The Unreleased Recordings. El vinilo. (25-08-09)

Con agosticidad y sin muchos aspavientos se presentó la, por ahora, última entrega de las veneradas Mother´s Best Flour sessions.

Una edición en vinilo de 180 gramos estrictamente para coleccionistas que adoran este formato por su sonido cálido e inconfundible y máxime tratándose de grabaciones de los años 50. Escuchar este álbum, en este formato, representa comprarse un ticket para un viaje en el tiempo a la era Hank Williams.

Deben haber considerado que los compradores de este vinilo están preparados para emociones más fuertes porque contiene diversas "rarities" como presentaciones de Hank, menciones comerciales de la susodicha harina, intsrumentales como el "squared" Sally Goodwin -atención al fiddle montañero de Jerry Rivers-, gospels como Dust On The Bible o When The Saints Go Marchin´ In, o temas inmortales como Lovesick Blues o Lovesick Blues.

CARA A

01. Lovesick Blues
02. Cousin Louie Buck introduces Hank Williams
03. On Top of Old Smoky
04. Hank Williams & Cousin Louie sell Mothers Best Corn Meal
05. Columbus Stockade Blues
06. The Prodigal Son
07. The Mothers Best Song
08. Cousin Louie & Hank Williams: closing pitch
09. Theme
10. Blue Eyes Crying in the Rain
CARA B
11. Lovesick Blues
12. Cousin Louie Buck introduces Hank Williams and the Drifting Cowboys
13. Have I Told You Lately That I Love You
14. Hank Williams & Cousin Louie sell Mothers Best Flour
15. The Mothers Best Song
16. Sally Goodin
17. When the Saints Go Marchin In
18. Cousin Louie & Hank Williams: closing pitch
19. Theme
20. Dust on the Bible
HANK Williams, The Unreleased Recordings. Revealed. (03-10-09)
El 3 de noviembre es un gran día para los fans de Hank Williams porque se anuncia una nueva edición que será muy popular de cara a las fechas navideñas que se avecinan.

Tres discos con 55 temas delimitados temáticamente en: grandes éxitos de Hank Williams -sus temas más conocidos y números uno-, canciones gospel y canciones de la etapa Luke The Drifter. Podían haber creado otra secuencia de canciones diferente u otra categorización distinta pero esto es lo que hay.
Supongo que lo que buscan es mostrar en estas grabaciones las distintas facetas de Hank Williams. Pero insisto, lo verdaderamente fascinante de estos shows no son las distintas caras de Hank sino la visión de conjunto. Y flaco favor le hacen a este hallazgo este tipo de apartijos.
No obstante volvemos a remarcar las ventajas de las ediciones, el sonido pristino conseguido, redescubrir a un mito para resituar sus ejes temporales y humanos, mostrar aspectos olvidados de su figura y ubicar al legendario Hank Williams donde le corresponde: en el top del Olimpo Hillbilly.

Disc 1: The Hits.. Like Never Before
1. Cold, Cold Heart
2. Move It On Over
3. (I Heard That) Lonesome Whistle
4. Long Gone Lonesome Blues
5. Hey, Good Lookin'
6. My Sweet Love Ain't Around
7. Why Don't You Love Me
8. A Mansion On The Hill
9. Moanin' The Blues
10. I Just Don't Like This Kind Of Livin'
11. They'll Never Take Her Love From Me
12. Mind Your Own Business
13. Lovesick Blues
14. Nobody's Lonesome For Me
15. Don Helms & Sammy Pruett and the Drifting Cowboys: Twin Guitar Polka (instr.)
16. Gathering Flowers For The Master's Bouquet
17. Jerry Rivers And The Drifting Cowboys: Eighth Of January (instr.)
18. Closing Theme

Disc 2: At The Cross
1. That Beautiful Home
2. How Can You Refuse Him Now
3. Lord, Build Me A Cabin In The Corner Of Gloryland
4. Farther Along
5. Calling You
6. I Am Bound For The Promised Land
7. Dear Brother
8. Jesus Died For Me
9. At The Cross
10. Thirty Pieces Of Silver
11. I Saw The Light
12. Lovesick Blues
13. I Can't Help It (If I'm Still In Love With You)
14. Jerry Rivers And The Drifting Cowboys: Dance All Night (instr.)
15. Lonely Tombs
16. Closing Theme

Disc 3: Luke The Drifter


1. Everything's Okay
2. I've Just Told Mama Goodbye
3. Where The Old Red River Flows
4. Alabama Waltz
5. Faded Love And Winter Roses
6. Deck Of Cards
7. Just Waitin'
8. I Hang My Head And Cry
9. Jerry Rivers, Hank Williams And The Drifting Cowboys: Orange Blossom Special
10. I've Been Down That Road Before
11. Steal Away / The Funeral from show
12. Lovesick Blues
13. I Dreamed About Mom Last Night
14. Jerry Rivers And The Drifting Cowboys: Black Mountain Rag (instr.)
15. I Heard My Savior Calling Me
16. Closing Theme from show
Fuentes:
http://www.efeeme.com/40830/llegan-nuevas-grabaciones-ineditas-de-hank-williams/
http://www.geocities.com/mothersbestshows/
http://www.amazon.com/gp/mpd/permalink/m2FAJ7OCSVXOYD
http://www.amazon.com/gp/mpd/permalink/m2FAJ7OCSVXOYD
http://home.online.no/~smpeders/ind-han5.htm

Agencias